Traditions, Stars, and Freaky Rudolf Friends!
Monday, November 28, 2005
Today was a really funny day. I have decided that once you do something two years in a row it is officially a "Tradition"! SO...Michelle and I now have a tradition of decorating her big tree in her front room. It is so much fun! Last year she called and needed an additional opinion on her tree and her new tree ornaments. The tree was huge (Her living room can take it) and her ornaments are divine (Don't worry, Chelle...I won't divulge the secret!! wink). So we decorated. AND...we came up with this really awesome idea for her silver bowl in her entryway. Chelle found the lamp, candles and runner. We were so proud! It looked great so this year I took a picture. (Ignore the weirdo in white taking the picture...duh)

This year we were having MAJOR pains with the freaking star. Oh. My. Hell. You all have no idea. Hours. Seriously. We tried everything. We even got out Michelle's huge pruners and hacked off the top. That in itself was potentially life-threatening (it is me after all). I almost fell off the chair and then was nearly blinded by the flying projectile it became. In my honor Chelle took the top we cut off and made me a Charlie Brown "I've killed it" tree...complete with it's own star and pot. I LOVE IT. There are many days I AM the Charlie Brown Tree. Complete with falling needles.


"I never did think it was a bad little tree..."

The star situation got so frustrating we seriously thought about leaving it like this:

But in the end we just decided to leave it for another day when we didn't want to curse and have it burn in the outer rims of hell.

But the tree still looked awesome.


I can't wait for next year!

AND...

I have noticed that my friends/family freakishly resemble the cast of Rudolph the Red Nosed Reindeer....Take no offense here...just laugh. I did.

Bob=Santa
Brian=Herbie
Karen+Tall, Nameless Elf
Me+Sad,Redhead Misfit Doll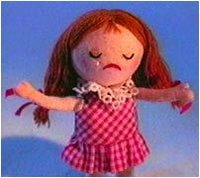 Clarisse+Hot friend, Bridgy
Jon+ Yukon Cornelius
Chelle+Bumble with retarded star
And last...the misfit Jelly Squirt Gun reminds me of my brother, Rhett...I'm not really sure why.